Rishabh Ghai looks at the players who are going to remain absent from both the teams as Munich gear up to face a wounded Arsenal.
Injuries and suspensions never truly represent a team's strength. But unfortunately these two demons come hand in hand alongwith the perks of playing at the top level. As Bayern looks to welcome Arsenal at the Allianz Arena, both the teams look set be miss certain key players.
I take a look at the players who will fall short of making it to the Champions League second leg Round of 16 encounter between the Bavarians and the Gunners.
Arsenal 
1. Jack Wilshere (Ankle inflammation)
Wilshere loss huge for Gunners

Arsenal's Champions League hopes looks to be in tatters as they welcome a fresh injury blow to an already injury ravaged squad. The 21-year old English man will be unfit for the clash due to an inflammation on his left ankle. This injury will bring back the memories of the terrible stress fracture to his right ankle which had kept him out of the game for an entire season. His failure to play a clash of this magnitude might affect Arsenal dearly. His midfield presence has been very important to the Gunners so far and Arsene Wenger's men now face a daunting task of overturning a 3-1 home loss without their star man.
2. Lukas Podolski (Ankle injury)
Arsenal set to miss out one of it's German soldier

If any player knows the Bayern side in and out, its him. Lukas Podolski's miss will be a huge one for Arsenal as the German knows the way Bayern play, being a former Bayern man himself. His form too has been great this season, scoring 13 goals for the Gunners so far. Podolski's excellent ability to find the right pass and a vision to launch a searching cross has seen his reputation rise considerbaly. To add to this, his tireless work ethics and a never say die attittude will cause the Gunnners missing out on a leader on the pitch.
3. Bacary Sagna (Knee Injury)
Bac's not back yet

Still suffering from an injured knee from the previous leg, the Arsenal right back will miss this leg too. Sagna's form has raised a question mark about his future with the club. However, his experience and determination would be a huge miss as Arsenal risk putting the inexperience Carl Jenkinson on the pitch. The former Charlton man has lots to learn and maybe one of the weaklinks in the Arsenal defence.
4. Wojciech Szczesny (Rested)
Not the number one today

This comes as a great surprise as the Arsene Wenger has decided to rest the Arsenal number 1. Looking off colour this season, Wojciech still needs to prove himself on the pitch. Having let the Gunners down on plenty of ocassions, Arsene Wenger thinks that its right if his Polish counterpart Fabianski keeps in between the poles this time. However, Fabianski is hardly match fit as he has just returned from a fresh injury. Playing him would be a huge risk in such a big clash for the Gunners.
Bayern Munich

1. Franck Ribery (Ankle Injury)
No super Frank for Bayern

Franck Ribery has been the mainstay for the Bavarians ever since he joined them. Although the Frenchman has looked cold this season, his presence gives Bayern a new dimension in attack. However, Bayern look to miss the French international as he undid his ankle in Bayern's weekend clash against Dusseldorf. This might cause Kroos to start and play on the left with Muller shifting right. Ribery's change a pace and his eye for goal will be sorely missed and his absence leaves a huge gap to fill.

2. Bastian Schweinsteiger (Suspended)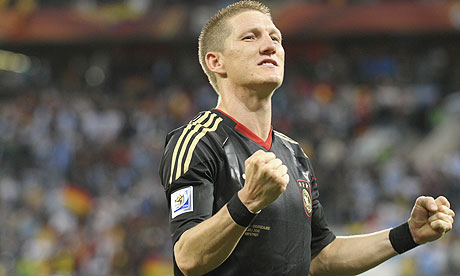 The German playmaker misses the tie

The Bayern Munich vice captain sits this one out after picking up a yellow in the first leg against the Gunners. Schwensteiger has been the linchpin of Bayern's midfield and he, alongwith, Javi Martinez has have run riot in the opposition midfield this season. Although Bayern have an able replacement in the form of Gustavo, Schweinsteiger's hold up play and ability to thread a pass will be missed. Gustavo has big boots to fill.

3. Jerome Boateng (Suspended)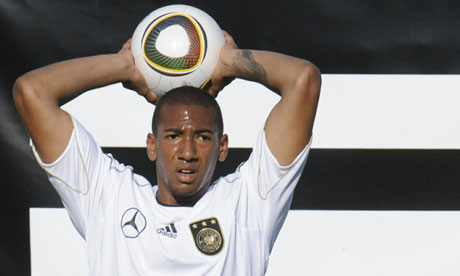 A red to forget

Boateng's red against BATE Borisov in the Champions League group stage had forced him out of both the legs. This known fact could come to haunt Munich if they lose out on a 3-1 lead at home. Boateng's absence alongwith Badstuber's injury sees Dante and Van Buyten set to start.

4. Holger Badstuber (Injured)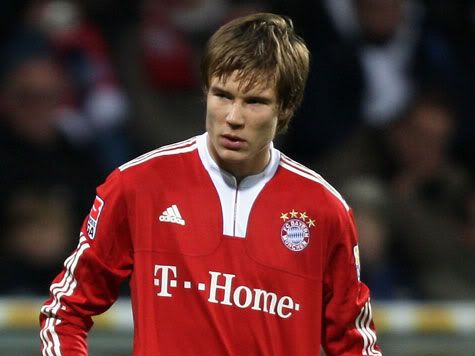 Still injured
A long term injury sees Badstuber miss out on this clash. Badstuber and Boateng had forged an incredible defensive partnership before the German got injured and now the baton will be transferred to Dante and Van Buyten to stop the Arsenal attacks.
Other doubtful casualties

Arjen Robben (Bayern Munich)

There have been rumours that the Dutch international has picked up a slight injury and is doubtful to start. The former Chelsea winger has not hit the ground running this season. However, the club has not confirmed his injury.

Abou Diaby and Santi Cazorla (Arsenal)

Abou Diaby may be back for the Gunners as he prepares to clear the late fitness test. However, the shock rumours are that Cazorla will also be one of the players rested as Rosicky might get an opportunity to star. Cazorla's absence will be a shocking one in a game of such huge magnitude.
With hoards of big names missing, the clash seems to be losing its gleam much before it has become. The first leg scoreline puts the tie hugely in favour of the German outfit and to top it up, these injuries and suspensions might cause the interest levels to drop and it could be branded as the 'Munich Disaster'
Written By,
Rishabh Ghai
Rishabh is a writer for Goal.com India, International, contributor for AIS and a writer and editor for 18 Yard Box.